Romantic Tips for Married Couples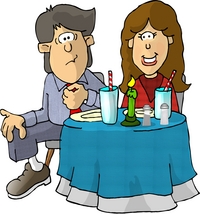 I completed typesetting my third book earlier this month, and the first printing of Romantic Tips for Married Couples is now available.
This book is a collection of some of the best of my friend Matt's blog entries that share ideas on how to keep the flame alive between you & your spouse inspite of the daily grind. In order to convert it from blogspot-html (and do some light editing/corrections) I ended up reading the entire thing several times over. I came away with new insight into relationships and ideas of fun things I could do at home to strengthen our family ties. A lot of it is based on common sense and courtesy (dare I say cherishment?—which is a real word incidentally!), but sometimes it helps to have someone point out the obvious.
For this book, instead of using LaTeX (as with Mormons Book) or XeLaTeX (as with Secrets of Success, Happiness, and Failure) I decided to go with ConTeXt (but rendered via XeTeX so I don't have to bang my head against the TeX-font wall).
Rachael came through in a pinch and designed the cover in a single evening. Kudos to her!
Note to family members: this means now I've actually got experience turning a blog into a book. The long anticipated and very belated 2005 Christmas gift will soon be going into production!
—Michael A. Cleverly
Thursday, June 15, 2006 at 20:27