Paying more for the pleasure of riding lots of trains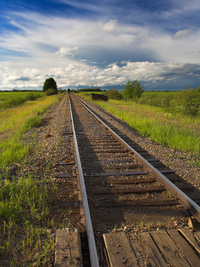 Last year I wrote about paying more for the pleasure of lots of layovers—how for an extra $111 I could visit airports in Missouri & Ohio on my way from Salt Lake to Portland, Oregon for the 12th Annual Tcl/Tk conference.
Well, it is time to start thinking about the 13th Annual Tcl/Tk conference... this year the conference is being held in Naperville, Illinois (near Chicago). Unlike last year where I had to pay my own way, this year my employer is paying for it (though I'd have gone anyway if they hadn't).
I looked up what it would cost to travel by train this afternoon. (Salt Lake is a major stop on the California Zephyr route between Chicago and San Francisco.)
Much to my surprise coach tickets were actually $10 less each way then what I could find for flights into Chicago's Midway airport—$120 vs $130.
Amtrak's website, just like Delta's last year, seems to be programmed to really go the extra mile and give you every last possible itinerary option. For an extra $148 ($268 total) I could return home from Naperville to Salt Lake the round about way:
Saturday

9:38 AM

leave Naperville on the Illinois Zephyr
Arrive in Chicago, Saturday

10:30 AM

Saturday

2:15 PM

leave Chicago on the Empire Builder
Arrive in Portland, Monday

10:25 AM

Monday

2:25 PM

leave Portland on the Coast Starlight
Arrive in Sacramento, Tuesday

6:15 AM

Tuesday

11:14 AM

leave Sacramento on the California Zephyr
Arrive in Salt Lake City, Wednesday

3:15 AM
Travelling this way would only take the better part of five days (longer than the conference itself) to get home!
I'm attending the conference with two co-workers who would apparently rather face the indignities of airport security & several hours cramped with no leg room than view the scenic beauty of the American midwest if it means cutting twenty-nine some odd hours off the trip.
As for me, I have only vague memories of traveling by train from Salt Lake to Los Angeles as a young child. The Zephyr has a certain romantic appeal to it. If I don't "seize the day," so to speak, will I ever get around to it otherwise?
Something worth thinking about for a few days before booking airfare I think...
—Michael A. Cleverly
Monday, August 14, 2006 at 19:45