Government endorsed Girl Power Ice Cream information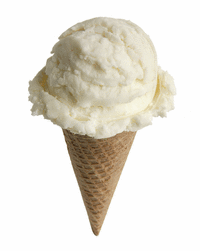 While listening to the local classical station (KBYU) on the way to work this morning I learned that July is National Ice Cream month and has been since Ronald Reagan designated it so in 1984.
Curious to find out a little more of the history, I decided to google .gov sites.
The top search result is to a page on www.girlpower.gov that talks about the nutritional benefits of ice cream (calcium) but at the same time also entertains with some animated dancing ice cream cones (our tax dollars hard at work?).
Wanting to see if the government was telling boys the same thing about the health benefits of ice cream, I tried visiting www.boypower.gov, but as you can easily verify, the Department of Health and Human Services hasn't gotten around to creating a corresponding Boy Power website for boys yet. Hopefully former Utah Gov. Mike Leavitt will rectify this gender-based exclusion in time for NICM08. ;-)
—Michael A. Cleverly
Monday, July 17, 2006 at 23:33