Getting rich selling pixels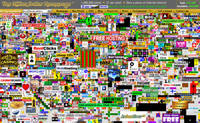 When I read about a college student who is more than half way toward his goal of making a million dollars, and he is doing it just by selling pixels on his website for $1 each...
From the Wall St. Journal article:
It was just a few months ago that 21-year-old Alex Tew of Great Britain was stumped about how to pay for college. He'd filled a notebook with ideas before jotting down this simple, if rather audacious, query to himself: How Can I Become a Millionaire? . . . Instead of selling banner ads, text links or splashy videolike ads that fill a screen, Mr. Tew opted to hawk the simplest graphical denominator of a computer screen: the pixel. A pixel is a tiny dot of light and color, and each screen has tens of thousands of them. Mr. Tew created a home page, www.milliondollarhomepage.com, where he divided the screen into 10,000 small squares of 100 pixels each. His plan: to sell the pixels for $1 a piece, with a minimum order of 100 pixels. In each space, buyers could put a graphical ad of their choosing that links to their own site when clicked on. The end result is a cluttered collage of ads in various shapes and colors all amassed on a single digital billboard. (Mr. Tew doesn't charge his advertisers anything when a visitor clicks on the ads.)
And it's working for him: "As of yesterday evening, Mr. Tew said he was $623,800 toward his goal, more than enough to pay for college and earmark some cash for his next entrepreneurial venture, he says."
... I wonder why can't I have dumb ideas that make so much money?? Why isn't my friend Little Jeff a billionaire yet???
—Michael A. Cleverly
Wednesday, November 23, 2005 at 09:52