Interstate numbering explained:
(or why there is no I-50 or I-60)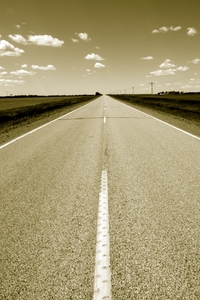 "Eliza, why is there no I-50/60, why?" someone once asked (though I suspect he knew the answer already).
In 7th grade I wrote a report about the design, history, and numbering of the Interstate system. In the spirit of recycling knowledge, here are the highlights as I recall them:
Major routes end in either a 5 or a 0
North/South routes are odd numbers
East/West routes are even numbers
Odd numbers begin on the west coast (I-5) and increase as you travel eastward (I-95 along the east coast)
Even numbers begin in the south (I-10) and increase as you travel north (I-90 which parallels the Canadian border)
A three digit route is a belt-route (1xx, 2xx, 3xx, 4xx, etc.)
If the first digit of a three digit route is even, the belt-route typically forms a loop
If the first digit of a three digit route is odd, the belt-route is a typically a spur
I-50 and I-60 do not exist because they would run through areas served by US 50 & US 60
The Federal Highway Administration's Route Log and Finder List has more information.
An open question (as far as I know), in the spirit of The Traveling Salesman Problem, is: what route you would need to take on a road trip to drive at least one mile on each numbered Interstate (either with or without including beltroutes) in the 48 contiguous states to minimize distance traveled and/or time.
In Utah the quickest way I can think of to go at least a mile on each Interstate would be to begin at Cove Fort near the I-70/I-15 junction. Travel on I-70 and go north on I-15 at the junction. Continue until you get to the southern I-215 interchange in Salt Lake County and take it to I-80. Go up into the canyons until you reach the I-84 junction near Echo.
(Interstate 50 is also the name of an interesting artistic photo collection.)
—Michael A. Cleverly
Tuesday, July 19, 2005 at 00:29