Why didn't Talmage get this for Louise?
Why didn't Talmage get Louise something like this for Christmas?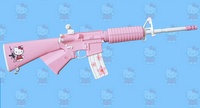 H/T: Will Duquette
—Michael A. Cleverly
Wednesday, January 02, 2008 at 22:02
It is an adorable AR-15. Louise liked it too. If I had only known, I could have got it for her. That duracoat stuff has really opened the doors to artistic expression on guns.

Thanks for pointing it out. We loved it.